How to Design
Step 1
Choose The Item You Want
There are Hoodies, shirts, blankets, etc. for your choice.
Step 2
Choose The Design
Use the default picture or Upload your own.
Step 3

Arrived Quickly
Make this item a meaningful gift!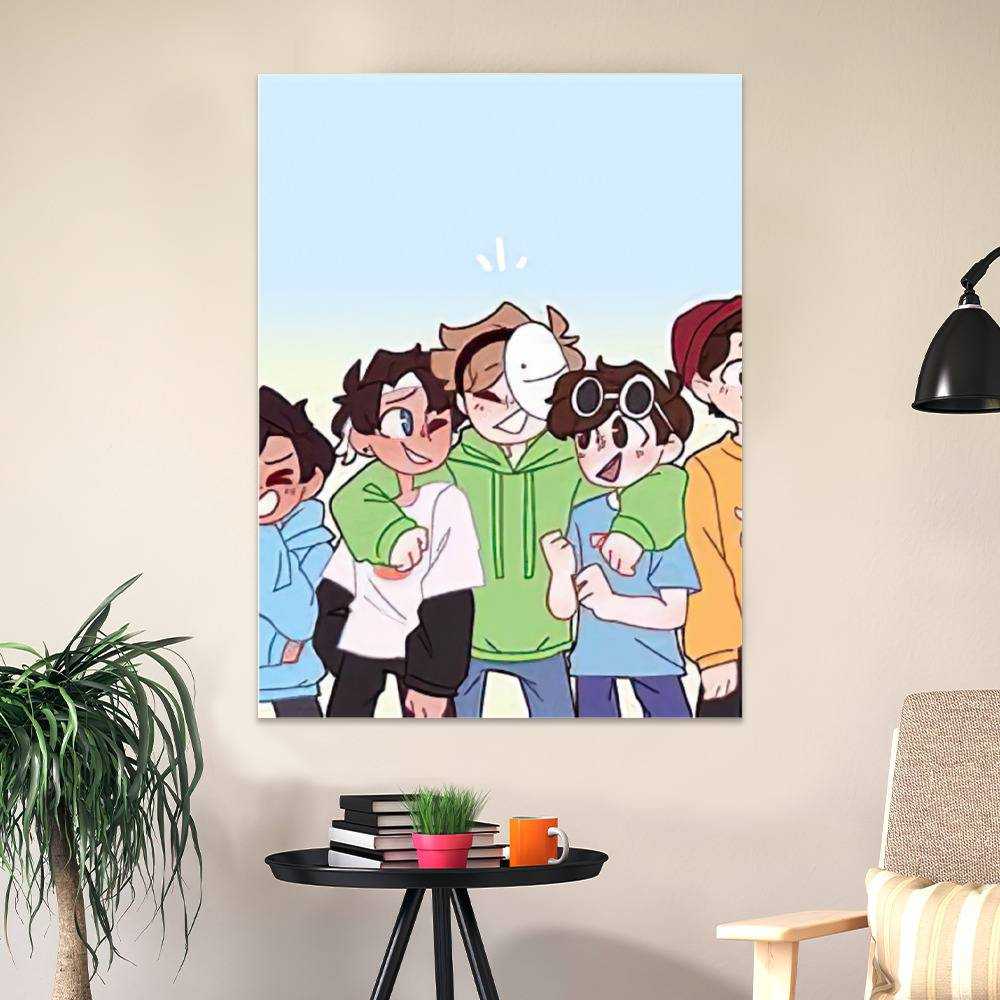 Dream Smp Poster Art Wall Poster Sticky Poster Gift for Fans Kidibot Poster
description

High definition photo prints on UV with vivid color on thick high-quality UV poster to create the look and feel of the original nature and masterpiece. These prints easily fit any standard size frames (Frames not included). Printed on vibrant, and long-lasting premium copper paper, we offer both smooth and matt materials designed to make these cool posters pop.

STICKY TABS POSTER that secures the art print to the wall without any holes! Feel the calming and unique ambiance each print brings to your home or office interior. The poster print is the perfect gift for fans!

Material: Copper paper

Weight: 14g/18g

Your order will be handled as soon as we receive the customization details, and it will be shipped out within 1-3 days!
shipping

Free shipping for orders over $49

You can choose the shipping method during checkout:

Standard shipping: $7.99

Arrives 7-15 business days after the production time

Express Shipping: $29.95

Delivery 4-6 business days after the production time
Welcome to DreamSMP Merch Shop
This is our sincerely greeting to you. Dream SMP Merch Shop has a variety of DreamSMP and Minecraft merchandise. If you like watching DreamSMP videos or playing Minecraft, this shop can not be missed. DreamSMP was created by Dream and GeorgeNotFound. This is an invite-only survival multiplayer (SMP) Minecraft server. It is famous for being a roleplay-themed server with a mostly improvisational plot and a long history of alliances, wars, factions, eras, and characters.
Dream - Creator of DreamSMP
Dream, formerly known as Clay, is a streamer who made Minecraft famous. He has been running his own YouTube account since 2014. Since 2019, the famous series include "Minecraft Manhunt" and "Death Swap", and it is also a SpeedRun challenger. One of the famous Minecraft streamers on YouTube. YouTube honors the Dream Streaming Awards in the gaming category in 2020. Dream is also one of the founders of Twitch's famous series DreamSMP.
In November 2019, he uploaded a new video for Minecraft, "But Item Drops Are Random And Multiplied…. ". During the same period, he uploaded the first video of the Minecraft Manhunt series. There was only one hunter, GeorgeNotFound, hunting down Dream, in the series. Dream needs to kill the ender dragon to win. And the chasers need to kill Dream. Hunters gradually increased, Sapnap, Badboyhalo, Antfrost, Awesamdude joined the hunter game in turn. In January 2020, Dream recorded a new video with GeorgeNotFound. In the video, Dream wears an electric shock collar, and the injured will be electrocuted, and the audience went crazy that day.
GeorgeNotFound - The First Member of DreamSMP
GeorgeNotfound, his real name is George Davidson. He is a Youtuber from England. GeorgeNotfound is the first hunter of Dream's Manhunt series. He did not have many roles in Dream SMP because he is not willing to go through the plot. He is a red-green colorblind, therefore, in his world is most yellow and has a normal proportion of blue, so blue is his favorite color.
What's in DreamSMP Merch Shop?
We have prepared a wide range of DreamSMP merchandise for you. The DreamSMP Merch Shop is for all Minecraft and DreamSMP fans. You can not only play the game on the internet but also wear or use a DreamSMP item in your life.
DreamSMP Hoodie: DreamSMP hoodie fabric is soft and does not cause skin irritation, or itching symptoms. We have DreamSMP pictures on our clothes. Feel free to show others your love for DreamSMP or Minecraft. The pictures we print are colorful and clear. You deserve such a hoodie.
DreamSMP Phonecase: Mobile phones are an essential part of life. Your phone needs a change of clothes. DreamSMP phone case has no odor, has good material, and is high quality. It will give your phone good protection.
How about the Quality in DreamSMP Merch Shop?
You can purchase our merchandise safely. All our products are subject to strict quality inspection. We have a strict production process to ensure to provide customers with the best quality service. Especially DreamSMP Cloth, they are lightweight, skin-friendly, and durable. The quality is extraordinary and you can wear them for decades.
Have a question? Have any issues you need to bring up with us? Email us anytime, at [email protected].
Hope You Success In Game And Life!!!